Mitchell Aulds-Stier has always been an active leader in his community through his numerous volunteer experiences with non profit organizations.
Being an active community member and volunteer has allowed Mitchell to really grow as individual, gaining new perspectives, meeting new people, and making a positive impact in the communities he serves. Recently, Mitchell Aulds-Stier has teamed up with Rivers of Steel Arts (RoSA), joining both the Advisory Board and Finance Committee of the organization.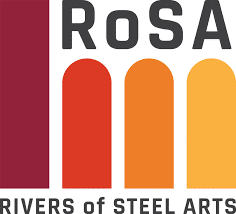 Based in southwestern Pennsylvania, Rivers of Steel Arts in a non profit organization dedicated to supporting artistic projects in the community that advance the interpretation of local history and re-imagine the future. RoSA makes up the art and culture wing of the Rivers of Steel Heritage Corporation (RSHC).
Rivers of Steel Arts celebrates both the past and the future by connecting community members with the world around them through artistic means such as exhibitions, performances, educational talks, and beyond.
As an Advisory Board member and volunteer, Mitchell Aulds-Stier is active in reaching out and supporting artistic projects that offer a meaningful look into the community's local history or future developments.
Mitchell Aulds-Stier works with a diverse group of programs in Rivers of Steel Arts, each making its own unique and positive contribution.
Eco Arts – Examining the evolving ecosystem

Metal Arts – Intertwining historical interpretation with the art making process through molten iron.

Photo Arts – Embracing a full range of interpretations and perspectives.
Urban Arts – animating closed sites through street art
Heritage Arts – representing folk and traditional art forms
Alloy Pittsburgh – reimagining the existing environment through collaboration and community initiatives.
Mitchell Aulds-Stier encourages individuals to learn more about Rivers of Steel Arts and get involved. Attend a workshop or exhibition to meet members of the community and become a part of something greater. You may also donate or simply spread the word about RoSA to heighten awareness of art and culture in the community and increase the reach of this growing organization.